Categories
BEST JAZZ VOCAL ALBUM
Upper West Side Love Story
FREDDIE BRYANT WITH CARLA COOK and Regina Carter, Donny McCaslin, Steve Wilson
BEST JAZZ PERFORMANCE
"Moses the Pharoah"
FREDDIE BRYANT WITH DONNY MCCASLIN, STEVE WILSON and Carla Cook, Regina Carter
BEST INSTRUMENTAL COMPOSITION
"Finale"
FREDDIE BRYANT composer
Album Info
Upper West Side Love Story, a double CD of 16 songs with music and lyrics by Freddie Bryant is a tour-de-force, executed brilliantly by his remarkable band. It is inspired by his first-hand experiences as he witnessed the gentrification of his beloved neighborhood. It is a confident and profound work of art – deep, textured and resonant.
With an all-star cast led by Carla Cook's soaring voice and moving performances, brilliant soloing by Regina Carter, Donny McCaslin and Steve Wilson, Bryant's guitar, strings and an always grooving rhythm section the CD brings the listener through a powerful story, from childhood, family to the current day. A unique jazz vocal CD, it's like a show or opera in two acts fusing swing, Latin, Brazilian, Reggae, funk, spoken word and even hip-hop influences telling a musical history of the neighborhood.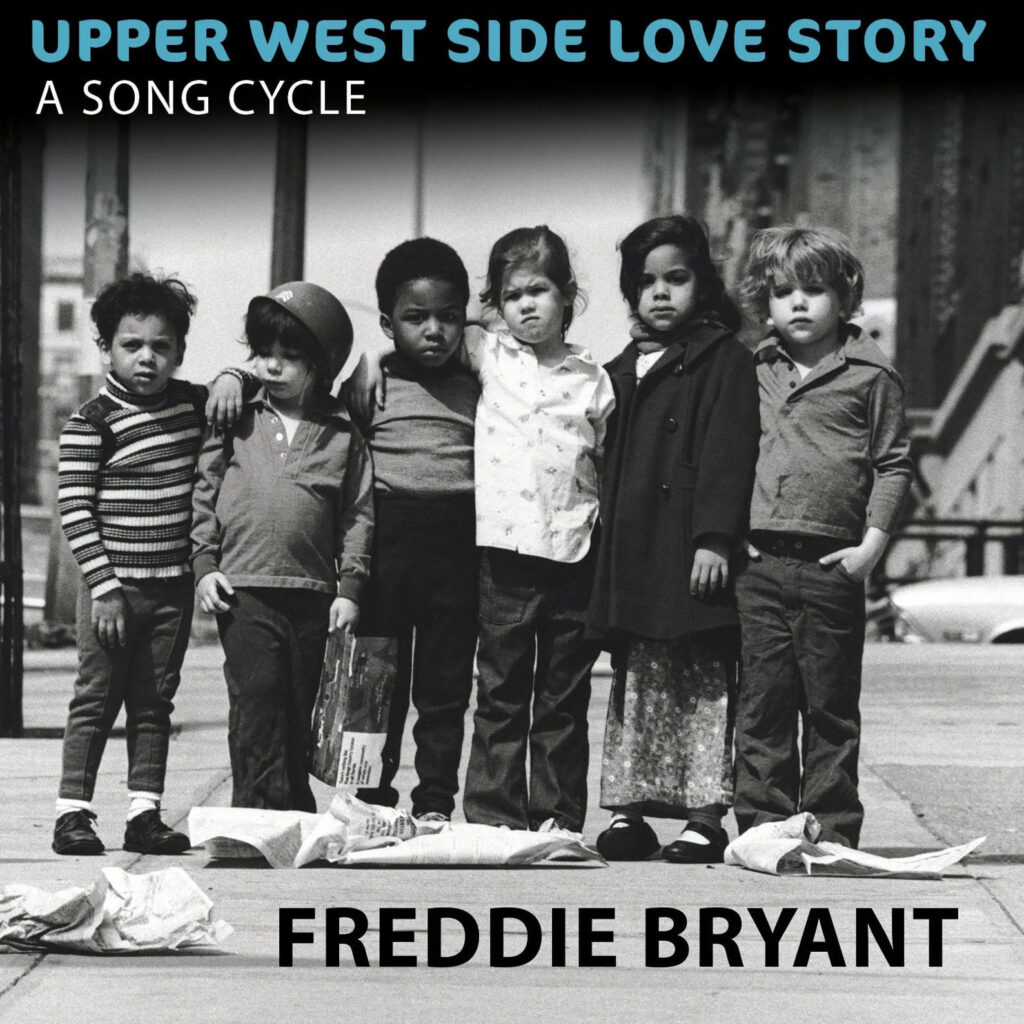 Personnel
Carla Cook vocals
Regina Carter violin
Gwen Laster viola
Akua Dixon cello
Steve Wilson alto/soprano sax
alto/concert flutes
Donny McCaslin tenor/soprano sax
John Benitez bass
Alvester Garnett drums
Freddie Bryant guitar, voice
Tracklist
CD1
01. Columbus, Quiet: Haiku #1
02. Intro – We Used to Dance
03. We Used to Dance
04. Intro – Love Can't Live on Nostalgia
05. Love Can't Live on Nostalgia
06. Life of the Playground: Haiku #2
07. A Walk in the Hood – part 1
08. A Walk in the Hood – part 2
09. Lost MJLP: Haiku #3
10. Intro – My Home Sings
11. My Home Sings
12. High-rise Kiss: Haiku #4
13. Kid'z Rhymes: Remember That?
CD2
01. Always Be Aware: Haiku #5
02. Intro – Roses and Rubies: The Cost of What We Lost
03. Roses and Rubies: The Cost of What We Lost
04. His Bed is a Box: Haiku #6 (3:03.507)
05. Intro – Moses the Pharoah: Who will stay and who will go?
06: Moses the Pharoah: Who will stay and who will go?
07. Central Park Life: Haiku #7
08. Intro – Finale
09. Finale
10. Spoken Word: Like Sand is to Coral, A Box of Pictures: Haiku #8
11. Last Song: It's Time to Say Goodbye
'Upper West Side Love Story' spans the emotional spectrum, with music and lyrics by an artist with a tangible, visceral knowledge of the neighborhood and its idiosyncrasies. "Taken as a whole, Upper West Side Love Story stands as a crowning achievement in his career." Bill Mikowski
"ambitious and socially-conscious double CD…" Jazziz Magazine 'Editor's Pick'
"His passionate lyrics and colorful music suffuse his reflections on a neighborhood so gentrified he had to leave."DownBeat Magazine
"an ambitious two-CD song cycle mixing nostalgia with the cold hard truth about the local landscape's changing fortunes through the decades…." "Luckily, the musician's distress provoked a bolt of inspirational lightning."
The New York Daily News
"Guitarist Freddie Bryant's recent two-CD set is an ambitious effort. The song cycle through its music and the vocals of Carla Cook tells the story of Bryant's life living in a neighborhood in New York that is similar to the one depicted in West Side Story. It is both nostalgic and realistic, covering the joys and hardships experienced while growing up, the music that he heard, relationships…and his decision to finally move away in 2019 after 54 years
LA Jazz Scene